With the addition of 18 more acres in 1886, the Columbian Harmony Cemetery became one of the most active African American cemeteries in Washington, DC, well into the 20th century. It was the final resting place for many of Washington's most prominent Black citizens —  from activists, abolitionists, and Civil War veterans to entrepreneurs, educators, and entertainers.
After a period of financial instability and the lack of space to grow, the Columbian Harmony Cemetery spent many years looking for a new site in Maryland. Eventually, the cemetery's land was sold to a real estate developer in 1959.
Approximately 37,000 graves were exhumed and moved to National Harmony Memorial Park Cemetery in Landover, Maryland, in 1960. The original site was sold to the District of Columbia. Interim uses included an automobile impound lot. In subsequent decades, the property was completely redeveloped to build the Rhode Island Avenue-Brentwood Metro station and surrounding mixed-use development, erasing all evidence of this historic cemetery, save for a small commemorative plaque.
Tragically, cherished headstones and monuments were not transferred along with their remains, and the individual identities of gravesites were not marked in their new location. The burial markers disappeared. During subsequent construction in the late 20th and early 21st centuries, coffins and human remains continued to be discovered at the Northeast DC site.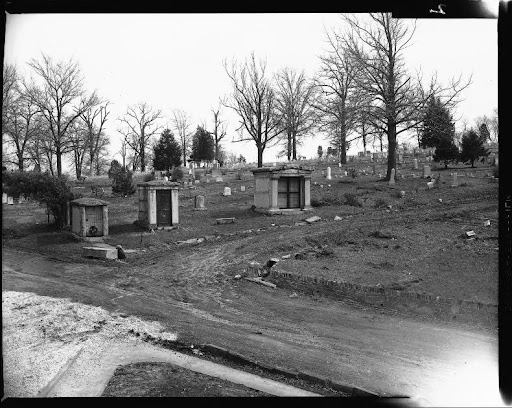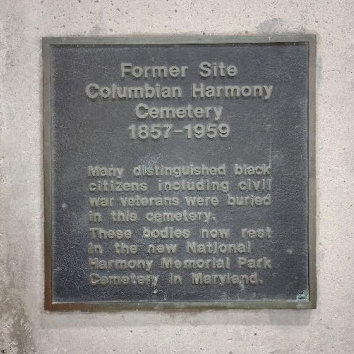 Some of the prominent Black Washingtonians buried at Columbian Harmony Cemetery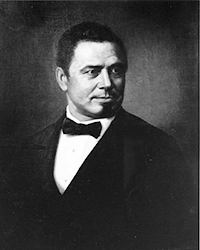 James Wormley (1819-1884)
A boarding house, restaurant and hotel owner, education activist who lobbied Congress to build the first public schools in DC for African American children. (Oil portrait of James Wormley by Henry Ulke, 1885. DC History Center.)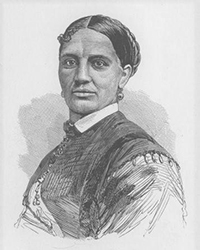 Elizabeth Keckley (1818-1907)
A seamstress and confidante to First Lady Mary Todd Lincoln, entrepreneur, author, philanthropist. (Elizabeth Keckley (detail). From Behind the Scenes, or, Thirty Years a Slave, and Four Years in the White House (1868). Rare Book and Special Collections Division, Library of Congress, Washington, DC.)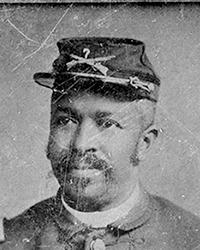 Christian A. Fleetwood (1840-1914)
A sergeant major, 4th Regiment United States Colored Infantry, Medal of Honor recipient. (Christian Fleetwood, head-and-shoulders portrait, facing slightly left. Library of Congress Prints and Photographs Division, Washington, DC.)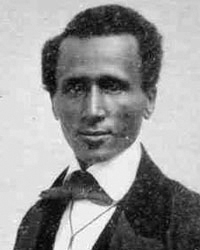 William Syphax (1825-1891)
A government civil servant and supporter of African American public education in DC. (Arlington Reference Collection.)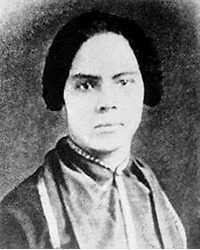 Mary Ann Shadd Cary (1823-1893)
A suffragist and activist, journalist, teacher, and lawyer. (National Archives of Canada.)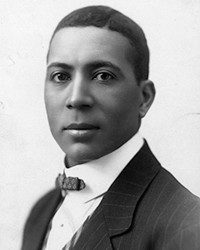 Sherman Dudley (1872-1940)
An actor and theater entrepreneur. (Billy Rose Theatre Division, New York Public Library.)
Find out more about the Harmoneon Cemetery by clicking on the articles below: